The new members of the Accountability Council have been announced.
Election of pensioners to the Accountability Council
Elections for PDN Accountability Council pensioner representatives were held in October. The Accountability Council Election Commission received the election results on October 16.

A total of 12,986 invitations to vote were issued, with over 15.5% of pensioners voting. Thank you all for casting your vote.


Election outcomes
Four seats available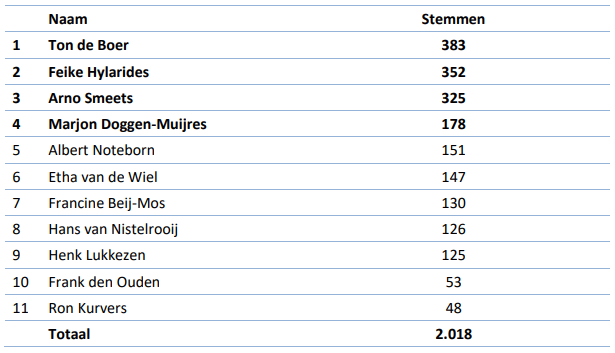 Elected to the Accountability Council on behalf of the pensioners









Ton de Boer
Born: 1953
Town/city: Brunssum
First term

Feike Hylarides
Born: 1945
Town/city: Maastricht
First term

Arno Smeets
Born: 1953
Town/city: Susteren
First term

Marjon Doggen-Muijres
Born: 1961
Town/city: Echt
First term
The pensioners were appointed as prospective members until July 1, 2024, and as Accountability Council members from July 1, 2024 until July 1, 2028. Retiring members and members who were not re-elected will complete their term (ending on July 1, 2024).
Elected to the Accountability Council on behalf of the members
Two seats were available to represent all employees who are accruing pension with PDN. As only two candidates stood for election, no election was needed. Both members were appointed.
Marc Silvertand
Born: 1968
Town/city: Heerlen
Re-appointed,
Third term




Jan Schreuder
Born: 1960
Town/city: Den Hoorn
Accountability Council member effective immediately,
First term
We would like to thank all candidates for putting themselves forward and wish the new Accountability Council members a good term of office.